The anticipation of the entrepreneurs of the various startups for UNICEF StartUp Lab work week three, which commenced on March 7th, 2023, was palpable. Upon their arrival, the energy was electric, and the enthusiasm was infectious. The entrepreneurs, who had traveled from all corners of Ghana, were ready to learn, share, and collaborate once again. 
Gathering at MEST for the third time since the start of the program this year, the cohort met to gain a deeper understanding of how to position their products competitively in the market. The week was packed with various sessions designed to provide an opportunity for the startups to sharpen their sales and marketing skills, allowing them to refine their go-to-market strategies, enhance their growth, and increase their client retention rates.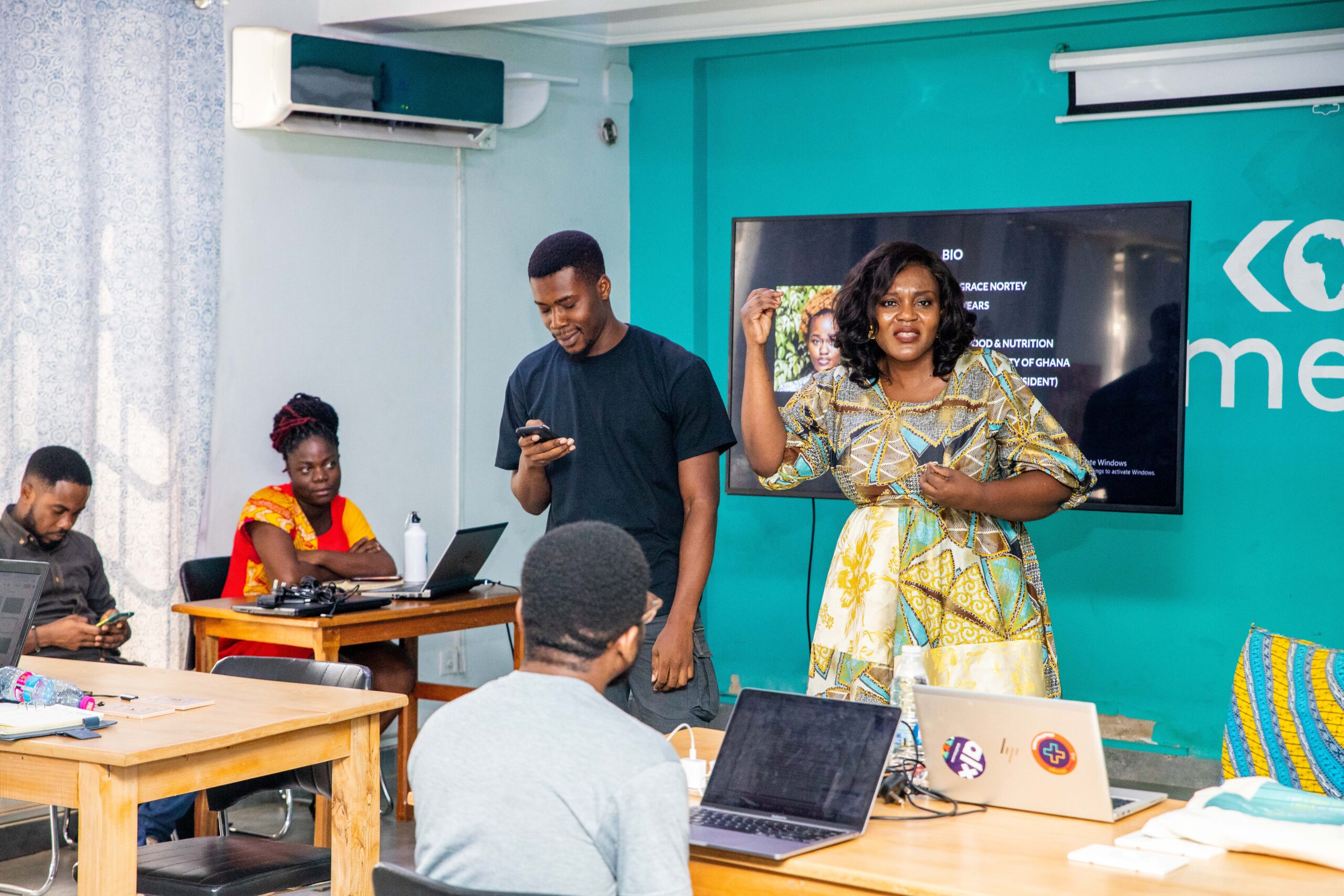 Adeline Ashanti-Antwi, Growth Marketing expert
Adeline Ashanti-Antwi led the Business Module for work week three, which was an insightful and informative session that provided valuable information for participants. She is a Growth Marketing expert with over six years of experience in this field, providing strategic advice and creating effective marketing strategies to improve her customers' output. The module focused on the importance of developing strong business acumen in the corporate world, covering subjects such as situational analysis, consumer personas, goal formulation, developing a go-to-market strategy, and evaluation metrics to help participants effectively navigate the complicated business landscape and tackle difficulties that may occur. 
"As a startup, it is essential to stay focused on your core business and not lose sight of what you are trying to achieve," noted Adeline. "Keeping your focus narrow and staying true to your core business will help you achieve your goals more effectively and efficiently in the long run."
The International Women's Day celebration was an integral part of the work week as the female founders within the cohort were celebrated and recognized for their achievements. To recognize these inspiring women, UNICEF StartUp Lab took the initiative to feature them on their various social media platforms, such as Instagram, Twitter, and Facebook. Through this, they were able to gain more exposure and recognition for their hard work and dedication. 
Women founders from the cohort share their experience as entrepreneurs in Ghana in celebration of International Women's Day and Women's Month
As the training progressed, Bhavik Doshi, Research and Impact Manager at MEST Africa, and his team held an insightful session on Social Impact Measurement. In this session, he highlighted the importance of being able to effectively communicate the impact of their work to their respective stakeholders – the general public, partners, and funders. He further elaborated, "It is essential to be able to capture the impact of a social initiative or project in a tangible form that can be shared with others." Bhavik emphasized the need for businesses to have clear and concise messaging that concisely describes and demonstrates the impact of their efforts. 
Bhavik Doshi, Research and Insights Manager, MEST, assisting a UNICEF StartUp Lab participant during his session
Rounding off the week, the Health and Nutrition (Survive and Thrive) session was anchored by Dr. Felix Osei Sarpong, a health professional from the UNICEF Ghana team. He indicated that UNICEF works to uphold the rights and well-being of all children in Ghana across health, nutrition, water, sanitation, and hygiene, education, child and social protection, and influencing policy. Dr. Felix and his team also heard presentations from entrepreneurs whose initiatives revolved around health and nutrition. They were eager to learn more about the projects these entrepreneurs were working on and the positive outcomes they had already achieved. Akofresh, Chestify AI Labs, GAPHealth Technologies, Nnoboa, and Netlyfe were among the firms that presented.
Work week three of the UNICEF StartUp Lab was a rewarding experience for Akweley Abena Okai, CEO and Founder of ViztaEdu. Akweley said, "I have learned how to effectively communicate the value our business offers while developing a market entry strategy through organizing various workshops for our target audience. Thank you, UNICEF, MEST Africa, KOICA, and all other partners who provide helpful resources for us as startups."
The fourth work week of the UNICEF StartUp Lab will be dedicated to exploring the topic of Revenue and Finance. This module is designed to provide startups with insight into the fundamental principles of revenue and finance, helping them better understand how these concepts apply to business operations. By the end of this work week, the startups should have a better grasp on how to generate revenue and manage financial resources effectively.
Written by Ilyich Tetteh Tagoe & Funke Makinwa