Accra, 22 June 2023 – After an intensive six-month accelerator program focused on business and product development, 20 of Ghana's most innovative entrepreneurs graduated today from the UNICEF StartUp Lab.
Led by UNICEF in Ghana and supported by KOICA under the "KOICA-UNICEF Accelerating Entrepreneurship and Innovation in Ghana" project, the UNICEF StartUp Lab is an accelerator program dedicated to support businesses working towards advancing the United Nations Sustainable Development Goals (SDGs) for children and young people. This milestone marks the culmination of a journey aimed at enhancing the business, technological, and communication skills of participating entrepreneurs, strengthening their product and businesses, and ultimately increasing their social impact.
UNICEF Deputy Representative in Ghana Fiachra McAsey said: "We continue to be inspired by this new cohort of talented startups, who are leveraging digital technology and their business acumen to build new products and services to tackle some of the most difficult challenges faced by young people in Ghana today.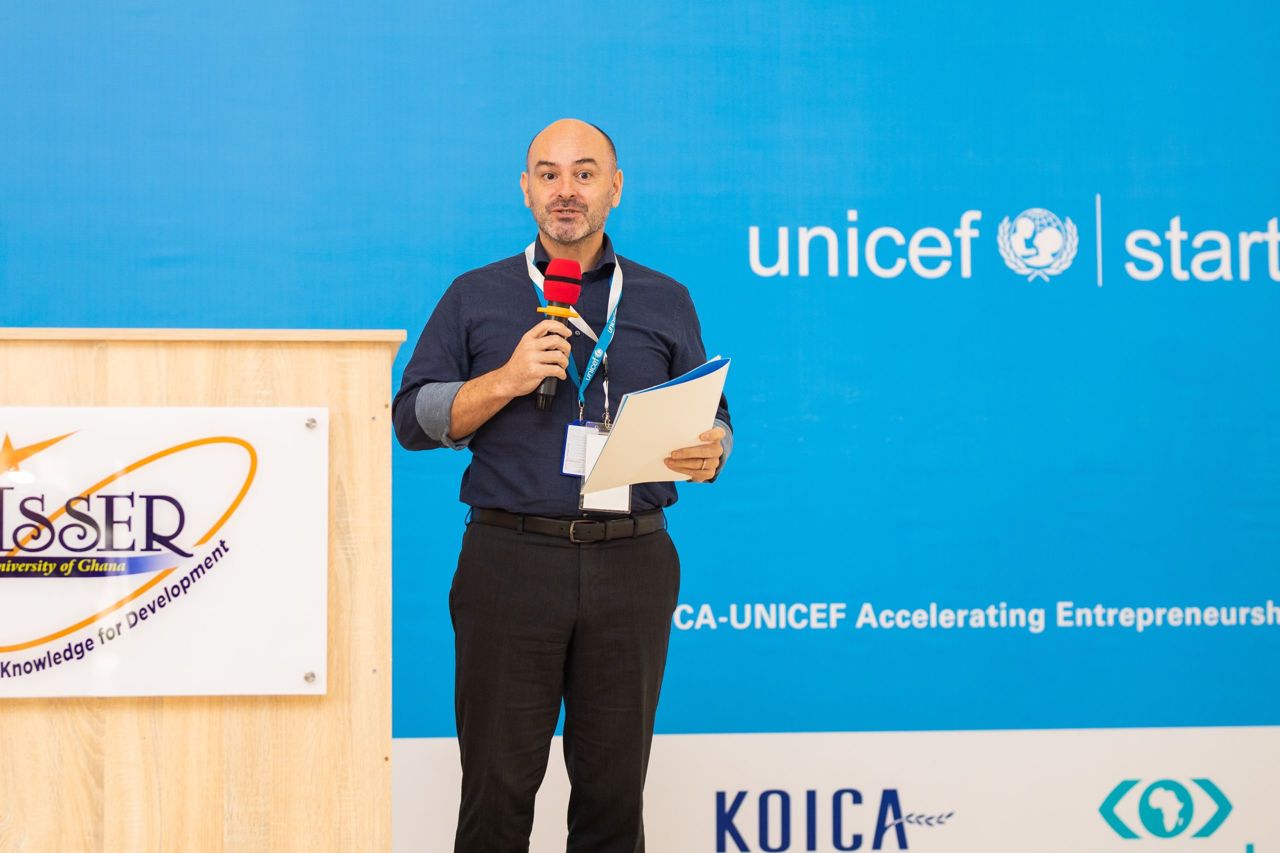 "The 20 startups make up a cohort of resourceful, dedicated and talented individuals from across the country. It has been our pleasure to accompany them over the past six months through the UNICEF StartUp Lab Accelerator Programme, and we look forward to supporting them further, as they join our Alumni network, and continue to make a difference for children and young people in Ghana, and beyond. "
The Acting Country Director of KOICA Ghana, Mr. Seungmin Oh said: "KOICA firmly believes in the transformative power of entrepreneurship and innovation. We recognize the importance of creating an enabling environment that fosters creativity, provides necessary resources, and encourages collaboration.
KOICA is proud to have been a part of the journey of the 20 startups, and we remain committed to supporting the growth of entrepreneurship and innovation in Ghana. We will continue to invest in programs that empower young entrepreneurs and equip them with the skills, resources, and networks needed to thrive in today's competitive landscape."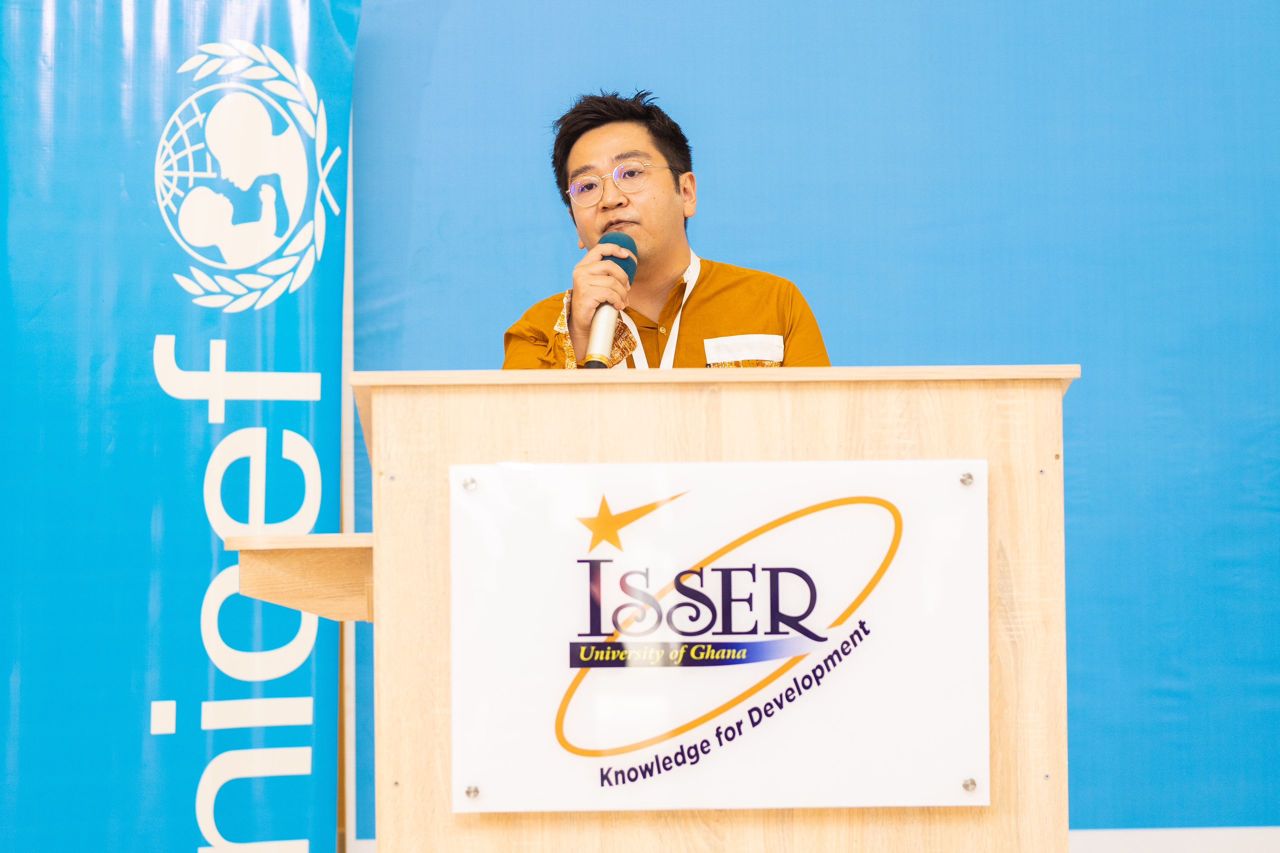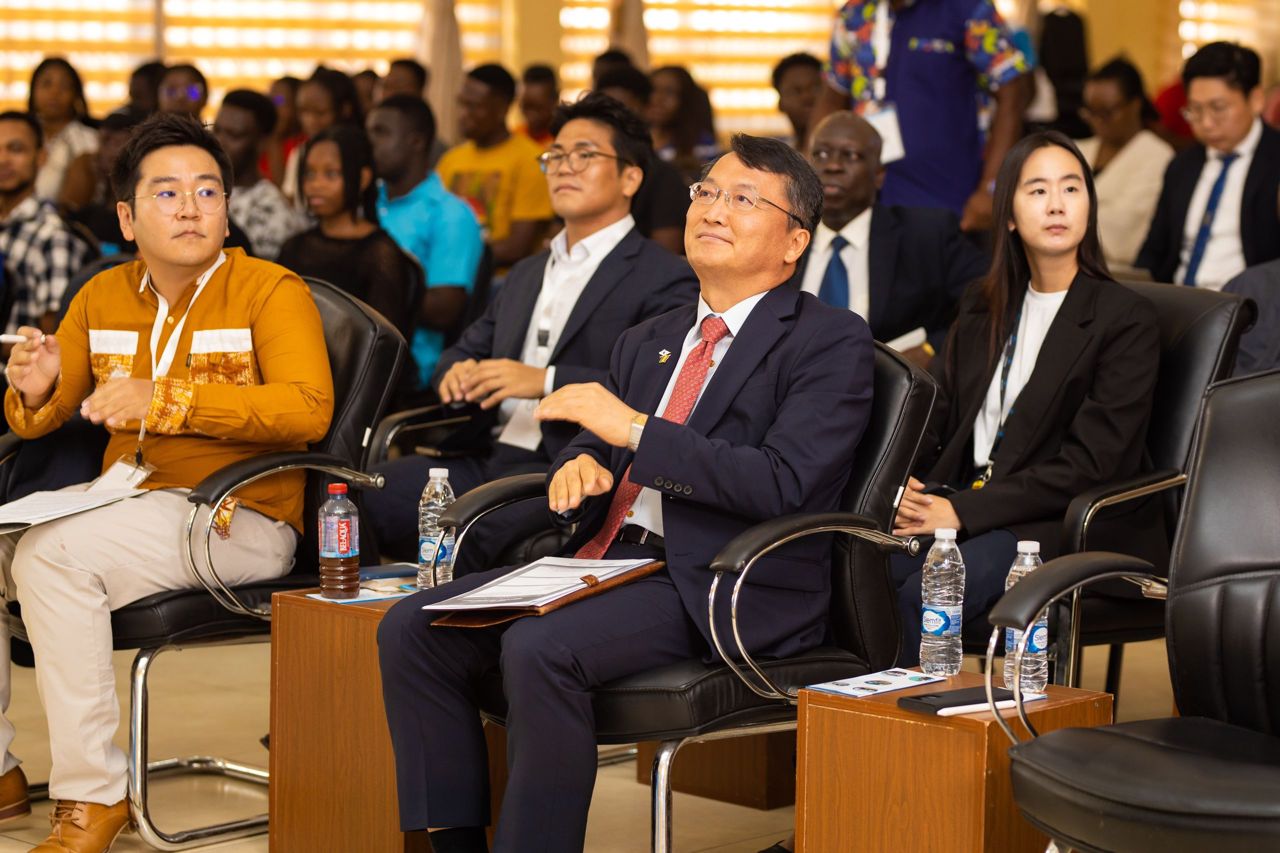 The Korea Ambassador to Ghana, His Excellency Ambassador Lim Jung-Taek said, "The Republic of Korea is honoured to have been a part of this transformative initiative, which has nurtured the seeds of entrepreneurship and paved the way for a brighter future for these talented individuals. He said, "South Korea has long been a testament to the power of technology-driven progress which has seen it invest more than 4% of its GDP in research and development, fuelling groundbreaking discoveries and fostering an environment that thrives on innovation."
"This commitment to technological advancement has yielded incredible results, giving rise to global companies that have left an indelible mark on various industries."
The startups also gained valuable access to a network of experts from UNICEF, KOICA, and MEST, offering significant guidance and fostering networking and investment opportunities. Moreover, qualified companies were given dedicated assistance towards achieving recognition as a ​​UN-recognized Digital Public Good. Throughout the program, each selected startup was provided with up to GHS 25,000 in prototyping funding, in addition to immersive and hands-on business acceleration support.
Now in its third year, the UNICEF StartUp Lab has accelerated over 50 startups from across Ghana, including by investing over $100,000 in prototyping funding to support the development and impact of these businesses. The UNICEF StartUp Lab has been instrumental in equipping Ghanaian startups with the necessary skills, resources, and support to address pressing challenges faced by children and young people in the country. By aligning their efforts with the UN's SDGs, these startups are poised to create lasting change and contribute to a better future for the nation's youth.
"We are thrilled to witness the successful completion of another cohort in the UNICEF StartUp Lab," stated Gerhard Malah, UNICEF StartUp Lab Program Manager at MEST. "As these entrepreneurs graduate from the program, we have full confidence in their ability to make significant strides in developing and refining their businesses, ultimately serving their communities in even more impactful ways."
The UNICEF StartUp Lab Demo Day is the culmination of months of hard work by our talented graduates, who have been working tirelessly to bring their innovative ideas to life. Attendees had the opportunity to witness first-hand the incredible ideas and products that the participating impact-driven startups have developed as they work towards addressing some of Ghana's and Africa's most pressing issues.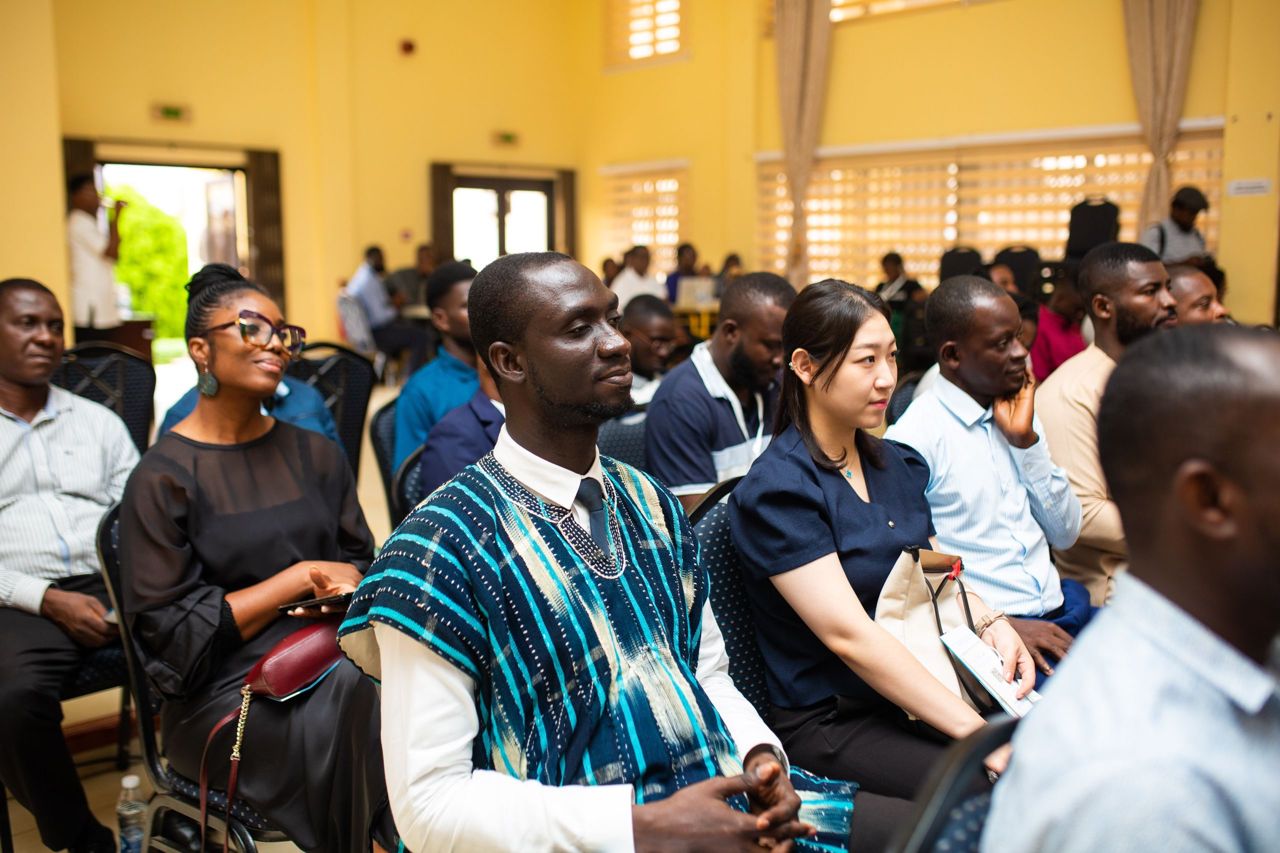 The startups participating in the program's third cohort are:
Loozeele Initiative trains and supports young Kayayei from Northern  Ghana with entrepreneurship skills and skills training in basketry, fabric weaving, baking, and shea butter making.
"The UNICEF StartUp Lab program has been instrumental in our success as a company. We have seen a remarkable increase in our revenue and sales since implementing their strategies and advice. In addition, we have been able to develop a website and an e-commerce platform to showcase our products, which has helped boost our sales. We have also been able to use the funding we received to create a social media presence and promote our products and services. Thanks to the UNICEF StartUp Lab and all stakeholders, our impact as a company is now felt more in various communities." – Teni Agana (Managing Director)
Brox Technology helps students and parents access students' results without the stress of looking for checker cards or an internet cafe. The service is accessed through different channels, including USSD for those that use feature phones, WhatsApp chatbots, and a Web app.
"The UNICEF StartUp Lab training program has enabled us to streamline our business processes, particularly in the areas of finance, marketing, and customer service. Thanks to this program, we have been able to design and implement systems that allow us to better manage our finances, develop effective marketing plans, and provide a higher level of customer service. We have been able to make the most of our resources, allowing us to save time and money while still providing a quality product or service." – Samuel Owusu (CEO)
My Power App is a social connection platform designed for girls to connect with each other, learn new skills, and connect with mentors in a safer virtual space.
"The UNICEF StartUp Lab has been a great opportunity to access the right resources and support to scale your startup" – Aisha Addo (Founder)
Easimodation is a real estate company that creates sustainable housing alternatives for students while giving individuals the opportunity to invest in real estate projects.
"The UNICEF Startup Lab has provided me with an invaluable opportunity to improve my entrepreneurial and business acumen. Through the program, I have had access to a wealth of resources, from mentors with deep industry experience to workshops and seminars that have helped me develop a better understanding of the fundamentals of launching and managing a successful business. I have also been able to network with a diverse range of professionals and gain insights into the challenges and opportunities of launching a startup in today's competitive environment." – Gloria Norvor (CEO)
Nnoboa is a Human Resource company operating within the agricultural sector to help small, medium, and large-scale farmers and agribusinesses increase their productivity through the provision of quality and qualified human capital to the agribusinesses.
"It is essential to be conscious of the image we are projecting to the public as a brand. A picture can speak volumes, and if not carefully chosen, it can communicate the wrong message or give an incorrect impression. It is important to take the time to consider what message we are sending with the images we choose to display as a brand, as they can speak louder than words." – Uriah Karikari (Founder)
NetLyfe is a health platform that provides medical assistance to patients dealing with malaria, hypertension, diabetes, and pneumonia. They provide consultations with licensed doctors, health tips and information, as well as access to prescribed medication for purchase and home delivery.
"NetLyfe has positively benefited from this program because, before entering the program, the business was still in the ideation and prototype testing stages. Through the active working sessions, support, and coaching we've received from the program have now projected the business to a growth stage whereby our product is fully live and generates direct revenue." – Wisdom Lord Gah (Product Manager)
Bethniel Financial Technology builds financial services applications, tools, and infrastructure and provides financial technology consulting services for the African market. Essentially, Bethniel Finance helps young people learn about money and personal finance, track expenses and create budgets, access financial services like payments, advice, investments, and loans, and address many other personal finance needs.
"Through the program we have greatly enhanced our Investment Readiness. We received expert advice on our Investment Memo, Financial Model, Pitch Deck, and more broadly, our Data Room." – Edward Akani (CEO)
ViztaEdu is a social media-based educational mobile and web-based app for tertiary-level students to share their educational journeys, share and collaborate on projects, access gamified learning features, and impact other students worldwide.  "The funds we received from the UNICEF StartUp Lab program have helped us develop our product from Test Bed Run (TBR) into a Minimum Viable Product (MVP). Our mentors have been invaluable in guiding us through the process of strategizing our business plan and refining our business model. They have helped us gain a better understanding of who our target audience is and how to reach them, as well as develop a plan of action that will make our venture successful." – Akweley Abena Okai (CEO)
Chestify AI Labs is building deep learning models that aid in diagnosing pathologies on medical images. They target highly marginalised communities in Africa and the Caribbean that do not have access to radiology infrastructure (health-tech) or seasoned radiologists.
"Through the support and funding provided by the UNICEF StartUp Lab, we have been able to make tremendous strides in our mission to provide equitable access to radiology infrastructure in underserved communities in Ghana and our target countries. The accelerator's investment allowed us to further develop our technology as we pivoted our core product offering aftermarket discovery. We were able to build key partnerships, and expand our reach to areas in need. By providing essential resources and mentorship, the accelerator has helped us not only improve radiology healthcare access but also create meaningful change in the lives of individuals and communities. The work of the UNICEF StartUp Lab is a testament to the transformative potential of startup accelerators in fueling innovation, fostering growth, and improving the lives of entrepreneurs in Ghana." – Michael Osei-Gyeabour (CTO)
Luminate Career Services is a career guidance company dedicated to providing students, from Junior High School to university, with the tools and resources they need to find fulfilling and relevant careers, guiding them into the world of work.
"Over the course of the program, I realised my team and I had been too focused on building our product and paid less attention to the other things that would come together to make us a successful business. We better understand ourselves as a business, our goals, and whether our solution fits the market we're aiming for. We have a better understanding of how to get our products into the hands of our customers and users and how to effectively communicate our vision and ideas among ourselves and to our stakeholders." – Desmond Adusah (Founder and CEO)
ELNAK Recycle is a textile waste management company that provides recycling and decluttering services for textile-centred businesses and households in Accra, Ghana.
"Participating in the UNICEF StartUp Lab has broadened my understanding of design thinking and marketing, expanded my network of impactful businesses, collaborations, and connected us with experts who have immensely contributed to our business. We are completing the UNICEF StartUp Lab with hopes of joining the digital public good community." – Emma Forson (Founder and Team Lead)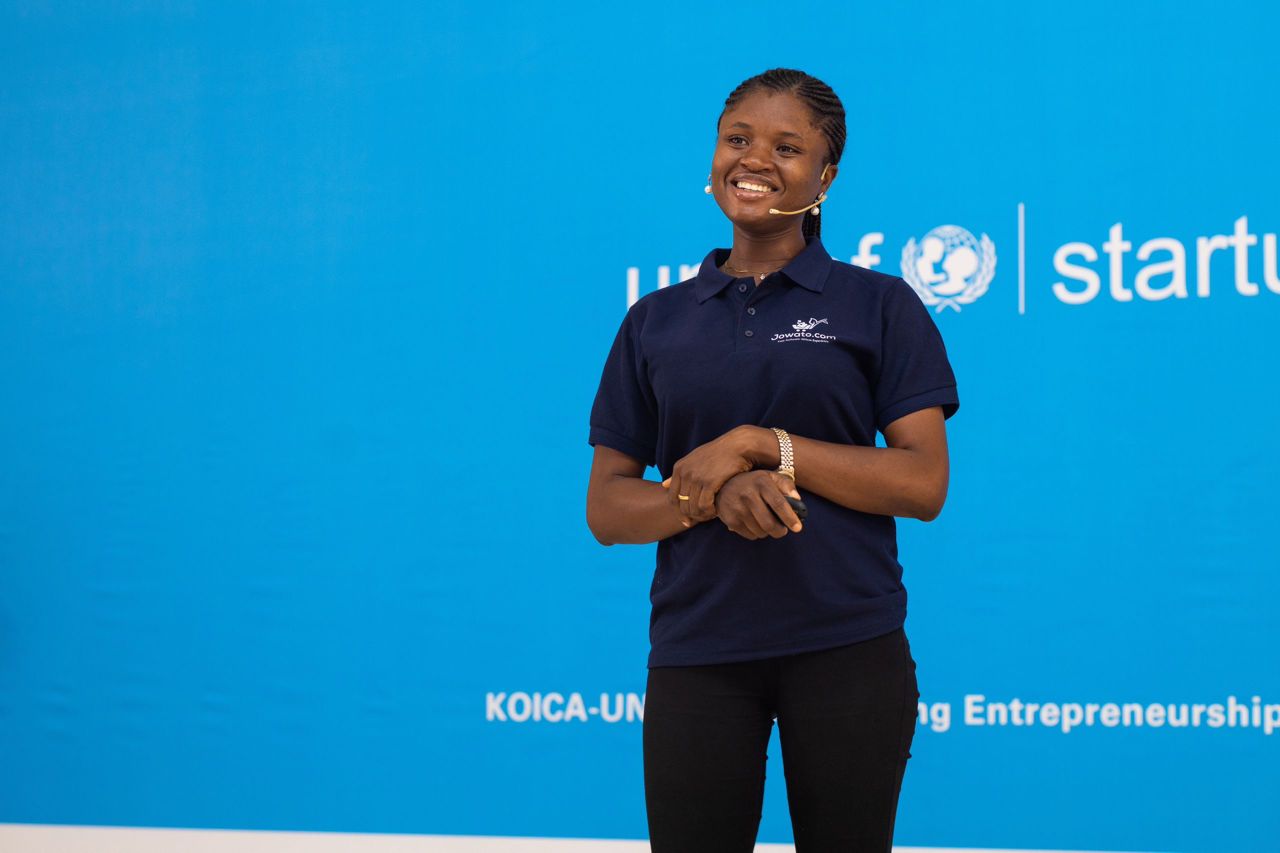 Jowato is a technology startup founded to provide and equip small, rural, and household indigenous businesses with the digital skills and solutions needed to transform their produce to be globally competitive.
"The UNICEF StartUp Lab program has been a game-changer for Jowato. The program helped us define our offering, optimise our technology, and provide better service to our customers. We now record the highest rate of return orders and vendor subscriptions since the program assisted us in creating a customer and vendor management strategy. We are very grateful for the opportunity to have participated in the program and would highly recommend it to other startups." – Jonathan Kojo (Team Lead)
EjumaHub is a platform that connects independent handyman service professionals with customers. They onboard a team of top-quality, pre-vetted independent service professionals to help households and businesses deal with cleaning, electrical, plumbing, painting needs and other jobs ranging in size and scope that require urgent attention.
"The UNICEF StartUp Lab program has provided us with a wealth of knowledge that has helped us completely restructure our company's financial model. We now have a much better understanding of the costs and revenues associated with each aspect of our business. This has allowed us to make more informed decisions when it comes to our finances. With the insights gained from the UNICEF StartUp Lab program, we are now more confident and informed when it comes to our financial decisions." – Hamza Osman (Product Lead)
TrashSmart is a digital waste management company that provides exceptional services in waste collection, the sale of cleaning items, and partnerships with key stakeholders in the waste industry, turning waste into value.
"TrashSmart is on a journey of innovation, collaboration, and compassion, thanks to the UNICEF Startup Lab. UNICEF Startup Labs has helped TrashSmart make a meaningful impact through innovation, collaboration, and compassion." – Afua Asarebea Opare-Baidu (Team lead)
Heny is enabling individuals and SMEs to create and share authentic African experiences, where individuals and small businesses get to participate in the gig economy by sharing their experiences and culture with others.
"Joining the UNICEF StartUp Lab reminded and taught us that we are actually on a journey to solve problems for mankind. Making the world a better place by touching one life (Experience curator) at a time. Receiving the grant has also enabled us to increase our team. 4 more highly skilled professionals have joined Heny as a result of joining UNICEF startup lab, this brings us a step closer to achieving our vision of employing 100,000 Africans by 2030." – Eugene Adortsu (CTO)
CTN Technologies provides training in new technologies such as 3D printing, robotics, and drone technology to equip young people between the ages of 16-30 with STEM educational system skills for the fourth industrial revolution.
"When we first joined the UNICEF StartUp Lab, our startup did not have a viable business model, but after joining the UNICEF StartUp Lab, we were able to narrow down on a feasible and profitable market strategy that promises to make our business sustainable and profitable." – Ida Padikuor Na-Tei (CEO)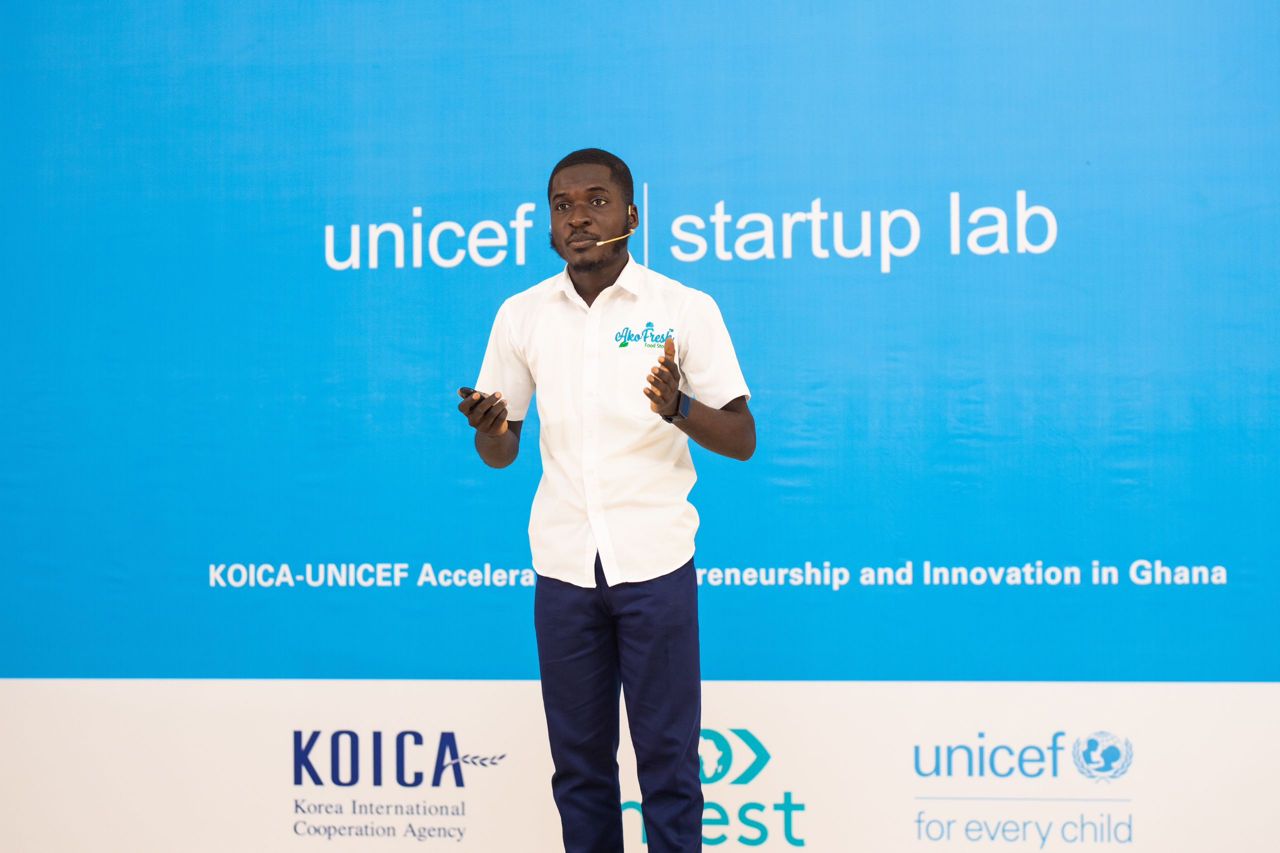 AkoFresh is a green cold chain solution offering sustainable preservation services to farmers to help reduce postharvest losses. This helps create lasting profits for smallholder farmers across Africa and reduces food waste GHG emissions.
"Participating in the UNICEF StartUp Lab program has been a game-changer for AkoFresh. We gained significant mentoring, network access, and advice on improving our tech-driven solutions as a result of the program. Not only has the UNICEF StartUp Lab validated our mission, but it has also connected us with important players and possible partners in the agriculture and technology sectors. The program's comprehensive support has been instrumental in propelling AkoFresh towards greater success, creating a positive change in the lives of smallholder farmers and local communities in Ghana." – Mathias Charles Yabe (CEO)
DeafCanTalk leverages technology that allows deaf people to access video content in sign language. They also provide TV services for people with hearing disabilities.
"Through the UNICEF StartUp Lab Program, our business has transformed by making fundamental changes in how it is conducted in order to help cope with shifts in the market environment." – Ike Agyei-Mensah (Managing Director)
KoenaConcepts is a Pan-African technology company building innovative technology solutions for the socioeconomic challenges of West, East, and Southern African countries. They have built a data-free, zero-rated online platform that allows young people aged 18–35 from rural areas and townships to access free technology skills training and job opportunities in the technology industry.
"The USL program assisted us in refining our key customer personas, and that resulted in us being able to design and develop the SpanLula platform to meet the needs of our specific Customer Persona." – Patience O. Benjamin (Territory Manager)
GAPHealth provides enterprise and patient-centred consumer software for digital health applications and research. Their software is disease and practice-agnostic, with easy, no-code customization to suit the needs of clinics and organisations. It also enables virtual health visits and the provision of prescriptions and labs to patients.
"We at GAPHealth are immensely grateful for the invaluable support and guidance we have received from the mentors in the UNICEF StartUp Lab program. Our comprehensive understanding of our positioning in the market was greatly influenced by the valuable insights provided by them, which in turn greatly influenced our marketing strategy. With their help, we have identified key areas of growth and pinpointed potential opportunities that we can capitalise on. We are now confident that our business strategy is well aligned with our target customers." – Cephas Kofi Okyere (GAPhealth Marketing Consultant)
###
About MEST
MEST is a pan-African software and entrepreneurship training program, seed fund, and incubator helping to launch technology startups across the continent. Founded in Ghana in 2008 by serial entrepreneur Jorn Lyseggen, MEST is a 12-month program that provides critical skills training in software development, business, and communications to Africa's burgeoning tech talent. MEST provides seed funding for the best ideas coming out of the program and continues to support the growth and development of its portfolio companies.
To date, MEST has trained 1000s of entrepreneurs from across the continent and invested in over 80 startups across industries from Agritech, Fintech, SaaS, eCommerce, Digital Media, and Healthcare amongst others. MEST is fully funded by the Meltwater Foundation, the non-profit arm of the Norwegian company Meltwater; a global leader in social and media intelligence headquartered in San Francisco.
About KOICA
The Korea International Cooperation Agency (KOICA) was established in 1991 by the Republic of Korea as a governmental organisation to implement the Korean government's grant aid and technical programs. KOICA Ghana Office has been supporting and implementing developmental programs in Ghana in four key sectoral areas – Public Health, Agricultural, Rural Development, Education, and Governance.
Ongoing flagship initiatives include; the Implementation of the Global Health Security Agenda (GHSA) in Ghana to build the country's' capacity to prevent, detect, and respond rapidly to infectious diseases for greater global health security with the US CDC, CHPS + project with the Ghana Health Service to strengthen the capacity of health systems in the Upper East and North East Regions, Rice Value Chain Improvement Project aimed at increasing the production of rice in Central Region in collaboration with MoFA, and the Girls STEM Project with Ghana Education Service to support young girls to pursue STEM courses at the higher level.
About the UNICEF StartUp Lab in Ghana
The UNICEF StartUp Lab was established in 2019 in Accra, Ghana. It is an accelerator that supports early-stage, tech-enabled startups in the development of innovative, market-driven solutions that help address complex challenges impacting the well-being of young people and adolescents. The UNICEF StartUp Lab integrates business incubation with wide-reaching technical expertise and systems knowledge in the social sector.